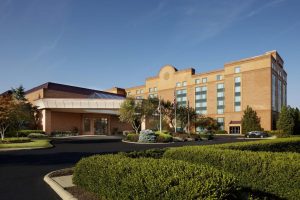 Ohio Auctioneers Gather for Annual Conference
Auctioneers from across the state convened this past weekend for the Ohio Auctioneers Association (OAA) annual conference. The conference was held at the Columbus Marriott Northwest, Dublin, Ohio, January 7-8, 2022.
Highlights of this year's conference included the annual Trade Show with over a dozen industry vendors, the Ohio Auctioneers Championship, Auction Marketing Awards, the Hall of Fame Induction, Presidential Luncheon, and the election of the Board of Directors.
Throughout the weekend, Auctioneers were presented with dynamic and engaging educational seminars from industry leading Auctioneers and presenters sponsored by the Ohio Auctioneers Commission/Department of Agriculture.
Jerick Miller of Quaker City, OH was crowned the 2022 Ohio Auctioneers Senior Division Champion with Grant Phipps of Plain City, OH, crowned the Junior Champion.
The highest award conveyed to an Auctioneer in Ohio is an induction into the Ohio Auctioneer's Hall of Fame. Greg Rice, Coshocton, OH was inducted as the 2021 Hall of Fame inductee and Chris Davis of Columbus, OH was inducted as the 2022 Hall of Fame inductee.
The OAA held their annual election of officers at the annual membership business meeting, electing Karen Huelsman of Fairborn – President, Susan Johnson of Guilford, IN– Vice-President, Brian Davis, Billy Peyton and Chelsey Anglin DeVotie were elected as Directors.